January 12, 2009
Slow-Mag tablets reformulated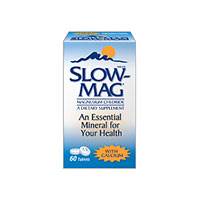 Slow-Mag
with calcium tablets (magnesium chloride and calcium carbonate, from
Purdue Products
) has been reformulated to contain 113mg of calcium per tablet compared to the previous dosage strength of 106mg of calcium per tablet. The magnesium content provided in each tablet, 64mg, was not changed.
Slow-Mag is indicated for the treatment of magnesium deficiency.
For more information call (888) 726-7535 or visit www.slowmag.com.