June 22, 2010
MPR Celebrates 25th Anniversary
Drug development isn't exactly a new business.
The desire to seek out and refine new remedies has been a part of human civilization since the time ancient Egyptians first began to keep bees to harvest the antibiotic properties of honey (think of it as the first biologic drug).

For centuries, the timeline of drug development has been marked by rare leaps in understanding—such as the refinement of analgesics like aspirin and opium, the implementation of vaccines and the development of effective antibiotics in the form of sulfa drugs and then penicillin.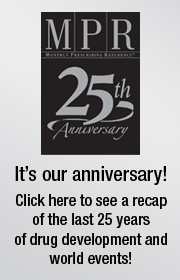 However, the last quarter century has been a much different chapter in pharmaceutical history. Primed by booming healthcare spending that began in the 1960s, pharmaceutical research outlets took full advantage of the revolutions in computing and biotechnology that began in the 1980s. As a result, the last 25 years have witnessed an unprecedented stream of innovative and sometimes controversial new drugs that have impacted not only the quality of our life, but also our society as a whole. Throughout these 25 years, MPR has been providing healthcare professionals with concise monographs for these new drug therapies.

For example, in 1987, the FDA approved the first antiviral treatment for HIV, Retrovir. The drug was developed just one year after HIV was first identified as the cause of AIDS, and continues to help prove that the disease doesn't have to be a death sentence.

That same year, the FDA also approved Mevacor, the first statin used to treat high cholesterol. The drug would serve as a precursor to an entire new class of pharmaceuticals that would combat the world's number one killer, cardiovascular disease. Lipitor, approved in 1996, is still the world's best selling drug.

The development of Prozac brought the treatment of depression into the mainstream. Rogaine and Viagra helped give others a different kind of lift. Imitrex helped treat those troublesome migraines. And, while the pill may be 50 years old, in 1999 Plan B gave women the first pharmaceutical option for post-sex birth control. And MPR was there to bring you the information.

Our increasingly sophisticated ability to study and manipulate our bodies' molecular pathways seems to promise an endless well of treatments for conditions ranging from diabetes to autoimmune diseases. This knowledge not only helps develop drugs, but also lets us better control the ones we now use. For example, simple genetic tests can often be used to nearly double the effectiveness of chemotherapy regimens for treating breast cancer.

As the average age of our population continues to rise, so will the number of treatments specifically targeted at fighting the diseases associated with aging. A second generation of radically new types of drugs to treat Alzheimer's disease are in Phase 3 clinical trials, with expectations of a new product on the market within five years. A new round of CETP-inhibitor drugs are showing promise as supplements to statins for raising "good" cholesterol. Meanwhile, potential new anti-clotting agents are poised to even further reduce deaths due to heart attack and stroke.

When MPR was born in 1985, its unique way of taking complex drug information and making it succinct for the busy practitioner was revolutionary. Concise drug information, organized by therapeutic category, was anathema at the time; no one had ever seen the data presented in this new form. Fast forward to 2010, and it becomes apparent that MPR was well ahead of its time. The same drug information created in print fits perfectly on a mobile device and looks great on the Web. Join us as we move towards the future of delivering the most up-to-date drug information used at the point of care.


—The MPR Editors