June 21, 2010
Lysteda available for heavy menstrual bleeding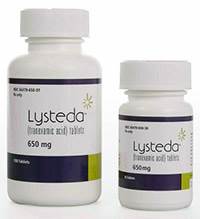 Ferring Pharmaceuticals has launched Lysteda (tranexamic acid tablets) for the treatment of cyclic heavy menstrual bleeding (HMB) in women. Lysteda was originally approved by the FDA on November 13, 2009. Ferring acquired Lysteda from Xanodyne on May 7, 2010.

Lysteda is available in a 650mg dosage strength tablet.

For more information call (888) FERRING or visit www.lysteda.com.