February 02, 2009
Kapidex approved for GERD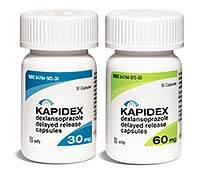 The FDA has approved Kapidex (dexlansoprazole, from Takeda) delayed release capsules for the treatment of heartburn associated with symptomatic non-erosive Gastroesophageal Reflux Disease (GERD), the healing of erosive esophagitis (EE), and the maintenance of healed EE. The approval is based on two identically designed, double-blind, eight-week, randomized, controlled trials in which Kapidex (60mg) produced high overall healing rates for EE at week eight when compared to lansoprazole 30mg and was generally well-tolerated.
Kapidex is a proton pump inhibitor (PPI) that utilizes a Dual Delayed Release (DDR) formulation designed to provide two separate releases of medication. It will be available in 30mg and 60mg dosage strengths.
For more information call (877) 825-3327 or visit www.kapidex.com.