January 26, 2011
Allegra and Allegra-D Approved for Over-The-Counter Use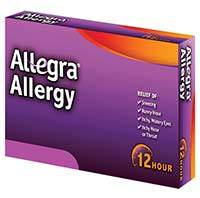 ALLEGRA (fexofenadine) 30mg, 60mg, 180mg tablets by sanofi-aventis

The FDA has approved sanofi-aventis' Allegra and Children's Allegra (fexofenadine) and Allegra-D (fexofenadine and pseudoephedrine) product lines to be marketed over-the-counter. The Allegra family of products will be available without a prescription in March 2011. This will include Allegra 24-Hour and 12-Hour Tablets; Children's Allegra 12-Hour Tablets and Liquid; Children's Allegra 12-Hour Orally Disintegrating Tablets; and Allegra-D 24-Hour and 12-Hour Allergy and Congestion Extended Release Tablets.

For more information call (800) 446-6267 or visit www.allegra.com.