I LOVE MY MPR CONTEST


AND THE WINNERS ARE...



"I looked something up and immediately realized
that the MPR had everything
that I needed at my fingertips!"

- Steven Nelson




The 14 contestants selected to win a 1-year subscription to MPR are:



| | |
| --- | --- |
| Julie Clay, Clinical Research | Ellen DiChiara, NP |
| James Gardner, MD | Rhonda Hertwig, NP |
| Cheryl Kinney, MD | Steven Nelson, MD |
| Ruth Ramos, MD | Joyce Raszewski, NP |
| Jeffrey Rymuza, MD | Varun Sundar, MD |
| Koshy Varghese, MD | Jeff Virant, MD |
| Mary Ellen Wilkosz, NP | Michael Young, MD |






"Roses are red, violets are blue,
I love MPR, it tells me everything new
With Updates and quizzes, First Reports and much more,
MPR improves care, and is never a bore"

- Cheryl Kinney

CONGRATULATIONS AND THANKS TO ALL WHO PARTICIPATED!
Cartoon Caption Contest
And the winner is...
Kabet Sterk, Physician in Family Medicine from Hudsonville, MI!
Kabet wins a FREE one-year subscription to MPR and a professionally printed copy of the winning captioned cartoon. Thank you all for playing and keep your eyes peeled for more caption contests very soon!
Facebook Halloween Contest
And the
Halloween
Winners Are...
Here are the winners of our annual Halloween Photo Contest!

Each person/group will receive a free subscription to MPR's print edition.
- Ingrid Gindlin: Best Individual Costume!
- Diana Bagent: Best Group Costume!
- Teresa Haskins: Best Medical-Themed Costume!
- Angela Kapalko: Most Original Costume!
Thanks to everyone who submitted and voted!
MPR REGISTRATION FREE BOOK CONTEST
Congratulations to the following 25 winners of a FREE copy of our October issue!
| | | | | |
| --- | --- | --- | --- | --- |
| Lindsay Bernal | Harold Blankenship | Sherry Campbell | Cynthia Elliott | Mary Farrar |
| John Fromson | George Garcia | Ernest Garnier | Russell Geoffrey | Robert Hellmers |
| James Junkins | Claudia Kumai | Ellen Mandel | Marcus Miller | Rukhsana Mirza |
| Brian Obenza | Cynthia Optholt | Wendy Pavnick | Paul Psychas | Sandra Richards |
| Erin Stillman | Michael Summitt | Latosha Walker | Rhonda Wynder | Margaret Ziegler |
MPR e-Prescribing Survey Contest
Win an iPad Mini at AAPA's IMPACT 2013 Conference
'I Love My MPR' Contest




Winners Announced for
'I Love My MPR'!




Winners will receive a $300, $200 and $100 gift card, respectively.




Thank you to everyone who entered and voted. Now it is time to announce the winners.




1. AJ Cohen, DO, MPD, FACOI

2. Brenda Dane, MPH Director/WVRx

3. Karen Myers, ARNP-C




Congratulations to the winners! And thank you for using MPR!



Go Green with e-Prescribing Challenge

Save Prescription Pads. Save Trees. Win $100!

MPR is challenging our users to "Go Green" this March and take advantage of the benefits of a paperless healthcare industry. Sign-up and utilize our e-Prescribing service and be entered into a daily drawing to win $100.

To enter, register for MPR's e-Prescribing platform, at no cost to you. One lucky winner will be selected daily during the month of March to receive a $100 gift card as our thanks for adapting "green practices". In addition to improving patient safety and providing more accurate prescriptions, while lowering healthcare costs, it will also be ecologically and economically beneficial for your practice.

Winners will be posted to eMPR.com, so check back frequently and see if you've won!


Winners:
3/1: Frank Silverman
3/2: Bhalachandra Kulkarni
3/3: Patricia Salvato
3/4: Jamal Sahyouni
3/5: Gary Costacurta
3/6: Robert Bryant
3/7: Paul Igbide
3/8: Rajeev R

ohatgi


3/9: Bret Cray

tor


3/10:Christopher Ziebell


3/11: Cecil George
3/12: Dee Everhart
3/13: Ivan Harwood
3/14: Jamie Tran
3/15: Eugene Pudberry
3/16: La

uren Vu


3/17: Pradip Shah
3/18: Sailaja Allanki
3/19: Rafael Guzman
3/20: Alison Tam

3/21: Wilson Yee
3/22: Son Chau
3/23: Gertrude Jacinto
3/24: Bruce Hopper, Jr.
3/25: Morgan Watkins
3/26: AnneMarie Linhuber
3/27: Khlood Masry
3/28: Joseph Schiavone
3/29: Raven Haynes
3/30: Chun Lai
3/31: Afshin Ashfaei

MPR Healthy New Year Competition
MPR Healthy Holiday Sweepstakes

---
Be One of Our 24 Lucky Daily Winners to Receive $100 as Our Thank You for Using MPR to Help Keep Your Patients Healthy This Holiday Season!
To enter, register for MPRxOnline.
MPRxOnline is a collection of services and resources to support you in your busy practice and foster communication with your patients. December 8 through December 31, a daily winner will be selected from the MPRxOnline registrants. Current registered users of www.eMPR.com can access MPRxOnline with their existing login credentials.



Your chance of winning each day increases the more times you access or use MPRxOnline's many resources including:



Surescripts® certified e-Prescribing platform at no cost to you
Product Information
Patient Education Materials
Product Coupons, Samples & Vouchers
Patient Assistance Programs
Pharmacy Locator and Drug Price Finder
Register Today to Win!*


A full list of winners will be posted here, so check back frequently to see if you've won! Contact us to claim your prize if you are on our winner's list
Winners:
12/8: Michael Rothstein
12/9: Judith Luck
12/10: Staci Johnson
12/11: Bruce Matthews
12/12: Arthur Kurayev
12/13: Alan Bailer
12/14: Kelly Collins
12/15: Paramjit Bhatia


12/16: Yosef Baras
12/17: Steven Gardner
12/18: Kent Teruya


12/19: Janine Quinlan


12/20: Hadriana McIntosh
12/21: Hari Malik
12/22: Kent Purdy
12/23: Wayne Cotton

12/24: Dishank Thakkar
12/25: Gail Raymon
12/26: Bob Bazylak
12/27: Michael Denicole
12/28: Michael Ziev
12/29: Kathryn Deitch
12/30: Dolis Lebreault
12/31: Cynthia Early

e-Prescribe with MPR Contest




Congratulations to Dr. Robert Alvis, MD, winner of a new iPad in our e-Prescribe with MPR Contest!


We've launched an

e-Prescribing platform

for prescribers at no cost. Certified by Surescripts®,

MPR

's secure

e-Prescribing platform

can be accessed any time and anywhere you have Internet access.

Dr. Alvis says: "e-Prescribing with

MPR

is a godsend. I practice out of four dialysis units and one office. While the dialysis units are equipped with an EMR, there is no e-Prescribe capability. The mobility of the

MPR

system allows me to e-Prescribe easily while I am in any of the dialysis units."
MPR Registration Contest Winners
Congratulations to the winners of the July MPR Registration Contest! Each winner will receive a $50 Visa gift card!





David Grant, MD: "I find MPR a great resource in my practice. It seems to have all the information I used to get from the PDR, but it weighs a thenth as much, and I get a new one every month so I can have one on each desk, one in my briefcase, and I can share older copies with others at work."
Anita Rowan Schwartz, CRNP: "The information has been helpful to my patients as well as myself, it has actually effected treatments patient's received because of their increased knowledge. I am in DEEP like of the medication information....I use MPR daily...it helps me look like a star."

Nancy Sabat, MD: "MPR provides up-to-date information which helps me keep current with the myriad of new medications being released. The information is presented in a concise, easily accessible form. MPR is a valuable tool in a rapidly changing field."
Jamie Moore, MD: "MPR provides up-to-date information which helps me keep current with the myriad of new medications being released. The information is presented in a concise, easily accessible form. MPR is a valuable tool in a rapidly changing field."
Meredith Reimer, MD: "MPR helps me stay up-to-date in medicine and specialties outside of my field of expertise and helps me stay current as a practicing physician!"
Rebecca Webster, MD: "I really enjoy the case presentations especially the derm cases where you have to name the diagnosis. Good review!"
Rene Mackay, MD: "Great resource. Use it daily in my practice"
Gary Fennel, PA-C: "MPR provides a quick reference to the latest drug information."
Wendy Xue, MD: "It helps me every day. Thank you."



Survey Winners
Congratulations to our survey respondent winners!
Tudorza xPress Survey Winner: Warren C. Lee
Tudorza Alert Survey Winner: Kenneth D Calhoun
Giazo Alert Survey Winner: Michael A. Fuhrman MD, FACG
Alimta MPRxPress Survey Winner: Mary Petrucelli, RN, MS, CPNP
Complera Alert Survey Winner: Jane Goddard
Afinitor MPRxpress Survey Winner: Susan A. Siemsen PA-C
MPRxpress Survey Winner: Fernando Partida, MD
Daliresp Alert Survey Winner: Donald Wood, MD
Gleevec OS MPRxPress Survey: Mandy Robertson
Gleevec RFS MPRxPress Survey: Cindy Hoyt
Haymarket Medical Registration Contest Winners
Congratulations to the winners of the Haymarket Medical Online Registration Contest!
1st Prize: Wayne Campbell, MD, FACP


"Just today I read information about two medications being offered in new formulations; PediPirox and nasal spray ketoralac. If not for this it would have been if and when they were presented in The Medical Letter before I knew about them."

2nd Prize: Demetria Williams, RN, BSN, OCN

"ChemotherapyAdvisor.com keeps me up-to-date on the latest patient care management, and helps me to improve the quality of care that I am able to provide to my patients."

3rd Prize: Cheryl Larson, PA-C
Mobile Drug Information Survey Winner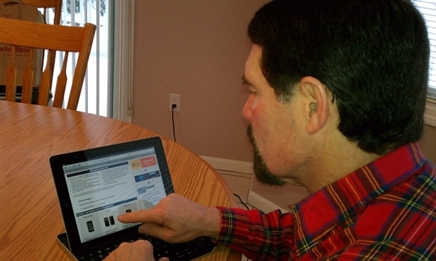 Congratulations to Dr. Jonathan Caine, MD who was selected to win an iPad 2 after completing the MPR Mobile Drug Information Survey.
"I don't always need to use a prescribing reference. But, when I do, I prefer MPR." - Dr. Caine
MPR Summer Scavenger Hunt Winners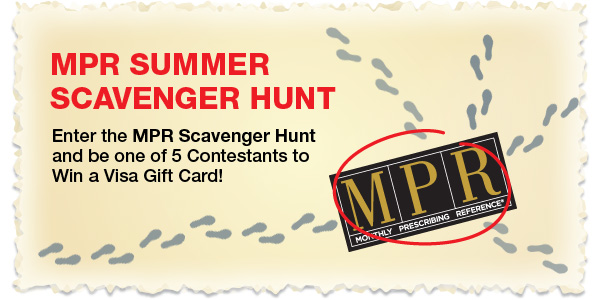 Congratulations
to the five MPR Summer Scavenger Hunt Winners that have been selected! Regular users of MPR in print, online at www.eMPR.com, and MPR Mobile, these healthcare professionals were able to successfully navigate through the clinical tools and resources available on eMPR.com to figure out clues and correctly answer questions placed throughout the site in the Summer Scavenger Hunt.
Lana Buttke, FNP-BC
- "I use MPR to stay updated on medications and to keep me up to date on any new medications or dosage changes. I also inform colleagues of any recalls."
Sheila Crowley, MD
- "I use MPR daily in my exam rooms to help with medication decisions such as proper dosing and to find appropriate medications for proper treatment."
Peter B. Germond, PA-C, MPH, FAPACVS
- "I use MPR daily for medication reference and dosing."
Scott Pavur, MSM, OPA, ATC, NREMT-B
- "I really love the MPR App for my iPhone, and use it all the time. It constantly updates, so I know that the information is always current, plus they have just added an "Interactions" function."
Marilyn Ringstaff, CNM, JD
- "I use the MPR a lot in my practice for the quick and easy chart comparisons-saves a lot of time!"
Scavenger Hunt Winner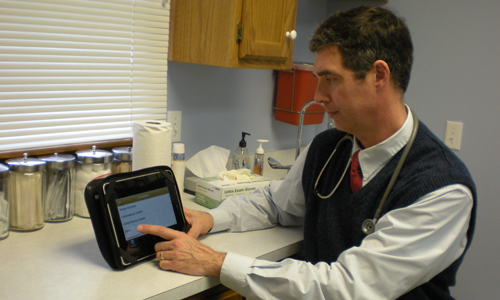 Congratulations
to Dr. John E. Hale, MD, who was the winner of the MPR Scavenger Hunt Contest and the iPad prize.
Dr. Hale, a regular user of MPR for drug information, was able to successfully navigate through the many resources
www.eMPR.com
offers to figure out the clues and correctly answer the questions placed throughout the site in the MPR Scavenger Hunt.
With the MPR Mobile Edition on his iPad, Dr. Hale is now able to quickly access MPR's drug database at the point-of-care.
MPR Everywhere Contest Winner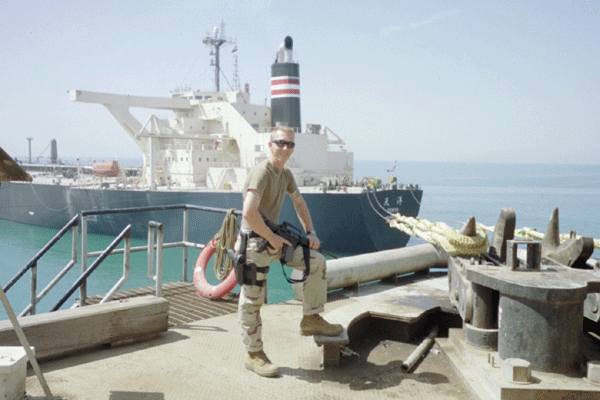 Congratulations
to HM1(FMF/EXW/SW) Stephan Howard, who was the winner of the MPR Everywhere contest and the iPad prize.
Click here to read his winning entry
, which describes how he used MPR while on duty with the U.S. Navy in Iraq to help save a life.
In addition to the winning entry, we received plenty of other deserving submissions ranging from serious to comical. Check below for the best of the rest.
HONORABLE MENTION
FUNNIEST ENTRIES