August 25, 2014
Fluoride in Primary Care for Children, Recommends AAP
the MPR take:
The American Academy of Pediatrics (AAP) has issued a new clinical report with recommendations regarding fluoride for dental caries prevention in the primary care setting. Points from the report include:
Fluoridated toothpaste is recommended for all children starting at tooth eruption, regardless of caries risk.
A smear (the size of a grain of rice) of toothpaste should be used up to age 3. After age 3, a pea-sized amount may be used. Parents should dispense toothpaste for young children and supervise and assist with brushing.
Fluoride varnish is recommended in the primary care setting every 3–6 months starting at tooth emergence.
Over-the counter fluoride rinse is not recommended for children <6 years due to risk of swallowing higher-than-recommended levels of fluoride.
The AAP recommends that pediatricians become educated on assessing caries risk and perform oral health risk assessments on all children at preventative visits starting at 6 months of age. It is also suggested that doctors know how to assess a child's exposure to fluoride and determine the need for topical or systemic supplements, as well as understand indications for fluoride varnish and how to use it.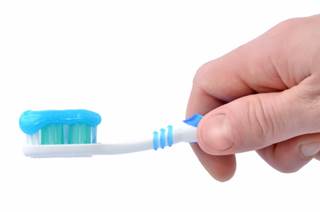 Dental caries remains the most common chronic disease of childhood in the United States. Caries is a largely preventable condition, and fluoride has proven effectiveness in the prevention of caries. The goals of this clinical report are to clarify the use of available fluoride modalities for ...
READ FULL ARTICLE
From Aappublications