October 29, 2013
Which Fruits and Vegetables Reduce Bladder Cancer Risk?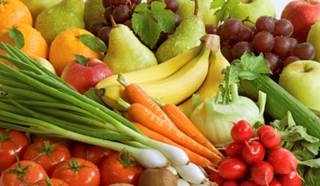 A recent study suggests that a high intake of fruits and vegetables is associated with a lower risk of bladder cancer—but only in women.1
The findings come from the Multiethnic Cohort Study, a longitudinal survey that, since 1996, has collected data on diet, lifestyle, and genetic factors from more than 215,000 adults between the ages of 45 and 75 in Hawaii and California and searched for links to cancer incidence. The study cohort includes African-Americans, Japanese-Americans, Latinos, Native Hawaiians, and whites.
RELATED: Oncology Resource Center
Although prospective cohort studies found no relationship, past case-control studies have reported an inverse relationship between the incidence of bladder cancer and the intake of fruits and vegetables.
These studies had been conducted in ethnically homogenous populations, primarily Europeans; therefore, the Multiethnic Cohort Study provided an opportunity to investigate the relationship in an ethnically diverse population.
This analysis drew on data from more than 185,000 participants in the study. Dietary data was collected on self-report questionnaires. Subjects were followed for 12.5 years, during which 581 cases of bladder cancer were recorded.
More Veggies, Less Cancer…
Several significant associations between diet and bladder cancer in women were detected. Women who had the highest intake of fruits and vegetables had a 65% reduced risk compared with women with the lowest intake. Those with the highest intake of vegetables had a 51% reduced risk and those with the highest intake of fruit had a 46% reduced risk.
In addition to total intake, the choice of vegetables and fruits mattered: women who ate the highest quantities of yellow-orange vegetables, cruciferous vegetables, and citrus fruits saw reductions in the risk of bladder cancer of 52%, 30%, and 44%, respectively.
On the other hand, consuming light green vegetables, dark green vegetables, fruit juice, or yellow-orange fruits had no effect on bladder cancer risk.
High consumption of nutrients found in fruits and vegetables, including vitamins A and C, alpha-carotene, beta-carotene, beta-cryptoxanthin, lutein, and folate were all significantly associated with reduced risk of bladder cancer in women.
…Unless You're a Man
By contrast, diet had no detectable effect on bladder cancer risk in most men. Some significant associations between fruit and vegetable intake and bladder cancer were found, but they disappeared after statistical adjustment for family history, employment in a high-risk industry, and smoking.
When results were stratified by smoking history, it was found that high consumption of vegetables reduced bladder cancer risk by 60% in men who were current smokers, but had no effect on risk in former smokers or in those who had never smoked.