June 12, 2013
Risky Sexual Behavior 
Seen Among Older Adults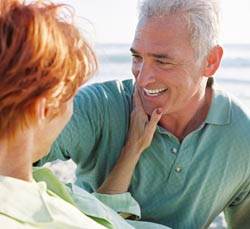 Data show that older adults are being treated for a greater number of sexually transmitted diseases (STDs)—especially HIV—than in the past.1
According to recent literature and the CDC, older adults are engaging in more sexual activities despite previous beliefs that such activity declines with age.2 By 2015, the number of people aged 50 years and older living with HIV/AIDS will account for half of all individuals with the disease in the United States.
This development is partially attributable to advances in highly active antiretroviral therapy (HAART). Individuals with HIV/AIDS who are taking HAART medications are living longer than those in previous years. However, risky sexual behavior is another reason for this increased incidence of HIV in the older adult population.
Health-care providers must be cognizant of this trend and use it to shape their daily clinical practice, namely by routinely assessing and screening for STDs and educating older adults about such STD-protective behaviors as using condoms.

Contributing Factors

The CDC reported that the highest prevalence rate of HIV diagnoses in 2008 was among persons aged 45 to 54 years. In 2011, the population with the highest percentage of people diagnosed with HIV was persons aged 55 years and older.2 The reason for the high prevalence of STDs in this group has not been examined fully in the literature.
However, a great deal of research data show that older adults are engaging in more sexual activity than previously thought.3 In fact, many older adults are continuing sexual activity throughout their lifespan. 

In a study of 3,005 older adults in the United States, current sexual activity was reported for 73% of those aged 57 to 64 years, 53% of those aged 65 to 74 years, and 26% of those aged 75 to 84 years.4 In addition, the population of individuals older than age 50 years who are single due to divorce or the death of a spouse or significant other is increasing.5
These two documented trends support the perception of increased sexual activity in older adults and the need for reinforcement of safe-sex practices over the lifespan. 

For the purposes of this article, sexual risk behavior is defined as "sexual intercourse without condom use with a casual partner, and/or sexual intercourse without condoms with a new main partner with no prior HIV testing."6 Sexual risk behaviors can result in such negative health outcomes as emotional and social disturbances as well as the transmission of STDs.
Since older adults are engaging in riskier sexual behaviors, health-care providers need further education regarding routine assessments of sexuality, risks of STDs, and methods of prevention. Table 1 offers an outline to help evaluate sexual risk in older adults.

Table 1. Evaluating Sexual Risk in Older Adults


Normalizing the discussion

• I discuss sexual activity with all of my patients because it is an important part of their medical care.
• Tell me about your sex life.
• When you say you've had sex, what exactly do you mean?
• Do you have sex with men, women, or both?
• Tell me about the number of sex partners within the past three months.
• Where do you meet your partners?
• Have you ever gone online to meet partners for sex?
• How well do you know your sexual partners?
• What do you know about the HIV status of your partners?
• How does your partner's HIV status affect your sexual behavior?
• Have you noticed symptoms in your partner that are concerning for you?

Asking about sexual activity
• What sexual activities do your sexual partners engage in?
• Do you have oral sex? Vaginal sex? Anal sex?
• Do you select partners based on HIV status?
• Do you ever get drunk or high before you have sex?

Asking about
prevention methods
• What do you do to protect yourself during sex?
• Do you use condoms when having sex? How often? With what types of sex?
• What has been your experience with using condoms?
• What factors/situations get in the way of using condoms?
Adapted from Centers for Disease Control and Prevention (CDC); Health Resources and Services Administration; National Institutes of Health; HIV Medicine Association of the Infectious Diseases Society of America. Incorporating HIV prevention into the medical care of persons living with HIV. Recommendations of CDC, the Health Resources and Services Administration, the National Institutes of Health, and the HIV Medicine Association of the Infectious Diseases Society of America. MMWR Recomm Rep. 2003;52(RR-12):1-24. Available at www.cdc.gov/mmwr/preview/mmwrhtml/rr5212a1.htm, accessed March 15, 2013.
Prevention Challenges

The issue of risky sexual behaviors among older adults is multidimensional. Contributing factors include a growing population of older adults, increased longevity, better access to medical care, more availability of treatments for various types of male and female sexual dysfunction, inadequate knowledge and perception of being at risk for STDs, diminished need to protect against unintended pregnancy, and increased societal acceptance and acknowledgement of sexual behaviors in this population.

The current population of older adults has been described as "a sexually liberated Baby Boomer generation."7 A growing rate of older adults without major health impairment is contributing to the improved longevity of this population.8 In one study, older adults who reported poor physical health tended to have a decreased interest in sex.3
Another study examined the results of the 2001 report of the National Advisory Council on Aging, which stated that 92% of survey participants considered sex an important part of life.1 In addition, 75% of those aged 65 to 74 reported being sexually active.1 It is safe to assume that a greater number of older adults in better physical health will result in increased interest in sex.

More and more older adults are seeking medical care for such conditions as erectile dysfunction in men and postmenopausal atrophic conditions in women. Since the advent of sildenafil (Viagra) in 1998—as well as other phosphodiesterase inhibitors, penile injections, vacuum devices, and prostheses—
research has shown an increase in the number of men continuing intercourse into their 80s.3
Topical vaginal estrogens and testosterone for vulvovaginal atrophy have led to fewer sexual pain and lubrication issues for many postmenopausal women.3 Since postmenopausal women do not have to worry about unintended pregnancy, they may choose to engage in unprotected intercourse, putting themselves at higher risk for STDs.9

A 2003 study determined that the perception of risk for STDs among older adults is minimal compared with that of adolescents and young adults.7 Older adults were less likely than younger adults to know how HIV is transmitted and were less knowledgeable about HIV disease progression.
A 2008 study assessed for knowledge of STD risk in 165 educated men and women older than age 50 years: A total of 92% of study participants agreed that condoms prevented STDs and AIDS, indicating some level of knowledge of the connection between prevention of STDs and AIDS, but only 13.3% always wore condoms with intercourse.9
Despite the fact that data are limited regarding late-in-life sexuality (especially in assisted-living and nursing homes), a 2011 study of older people in care homes found that these adults do not lose interest in sex but feel limited by staff attitudes and other physical or environmental constraints.10 This increases the likelihood that any sexual activity among these individuals will be unprotected. 

Societal Changes

Overall, society's view of sexuality in older adults has evolved, primarily in terms of the attitude and perception regarding the importance of sexual health in this population. Sexuality contributes to such health benefits in older adults as improved mental health, decreased stress, and decreased feelings of loneliness.8
One only has to turn on the television to observe the shift in society's perception and acceptance of sexuality in older adults. The media portray older adults as vibrant and sexual beings in the advertising of various products. Such common phrases as, "50 is the new 30" show that the general public is embracing older age and sexuality.
Approximately 20% of online daters are from the Baby Boom generation.5 However, even though sexual activity in older adults is more widely accepted, it should be remembered that risky sexual encounters involving unprotected sex (i.e., without a condom) may result in STDs. 

The Need for Education

Sexuality has positive effects on general well-being and mental health, and pleasure is necessary to maintain this state of well-being, even in the aging population.8 Sexual activity in older adults improves quality of life, but some individuals are hindered by disabilities and/or illness.11
Even so, older adults continue to engage in unprotected intercourse or other risky sexual activity and perceive the risk of acquiring an STD as minimal. Regardless of the knowledge of increased sexual activity, clinicians provide older patients little education regarding safe-sex practices.7
Efforts to increase awareness of the risks of unprotected intercourse should focus on the development and implementation of educational materials geared toward older adults in clinics, assisted-living facilities, and nursing homes. A similar educational effort must be made educate to health-care providers regarding safe-sex practices and the risk of STD transmission in older adults.8,9 

Developed in 1976, the PLISSIT model (Table 2) is a sexual-assessment tool that can be used in a variety of clinical settings and may be particularly useful when adressing older adults.12 The simplicity of this model allows a wide variety of questions to be individualized to the patient and his or her particular situation. 

Table 2. The PLISSIT Model
| | |
| --- | --- |
| P | Obtaining Permission from the client to initiate sexual discussion |
| LI | Providing the client with Limited Information needed to function sexually |
| SS | Giving Specific Suggestions for the individual to proceed with sexual relations |
| IT | Providing Intensive Therapy surrounding the issues of sexuality for that client |
A recurring theme found throughout the literature is that health-care providers tend to avoid asking older patients about sexual health. Compounding matters is the fact that older health-care providers are the least likely to discuss sexuality at all.13
Clinical and societal perceptions have continued under the assumption that older adults have health problems that hinder sexual activity. Older adults also may present with symptoms that the clinician may associate with common pathologic changes attributable to aging or to conditions common in this population (e.g., fatigue, weight loss, and mental confusion).
For these reasons, clinicians often dismiss early signs and symptoms of STDs and HIV in older adults.7 Older adults must be counseled on the risks and consequences of unprotected sex. Similarly, health-care providers caring for older adults must be educated regarding clinical perception of the likelihood of STD susceptibility in this population. 

The prevalence of HIV and STDs among older adults has risen steadily over the past 12 years. Despite societal perceptions of older adults being less interested in sexual activity as they age, many are currently sexually active and engaging in high-risk sexual encounters.
To confront this new reality, health-care providers should begin conducting complete sexuality assessments of their older patients and screening these patients for STDs in their daily practice.
Ms. Stewart is a clinical assistant professor and coordinator for the WHNP specialty program at the University of Arkansas for Medical Sciences College of Nursing, Little Rock, where Ms. Graham is a clinical instructor. 

References

Illa L, Brickman A, Saint-Jean G, et al. Sexual risk behaviors in late middle age and older HIV seropositive adults. AIDS Behav. 2008;12:935-942.

Centers for Disease Control and Prevention. Diagnoses of HIV infection among adults aged 50 years and older in the United States and dependent areas, 2007-2010. Available at www.cdc.gov/hiv/surveillance/resources/reports/2010supp_vol18no3/index.htm.

Taylor A, Gosney MA. Sexuality in older age: essential considerations for healthcare professionals. Age Ageing. 2011;40:538-543. Available at ageing.oxfordjournals.org/content/40/5/538.long.

Lindau ST, Schumm LP, Laumann EO, et al. A study of sexuality and health among older adults in the United States. N Engl J Med. 2007 Aug 23;357(8):762-74. Available at www.ncbi.nlm.nih.gov/pmc/articles/PMC2426743/.

Jeffers LA, DiBartolo MC. Raising health care provider awareness of sexually transmitted disease in patients over age 50. Medsurg Nurs. 2011;206:285-289.

Brodbeck J, Vilén UL, Bachmann M, et al. Sexual risk behavior in emerging adults: gender-specific effects of hedonism, psychosocial distress, and sociocognitive variables in a 5-year longitudinal study. AIDS Educ Prev. 2010;22:148-159.

Maes CA, Louis M. Knowledge of AIDS, perceived risk of AIDS, and at-risk sexual behaviors among older adults. J Am Acad Nurse Pract. 2003;15:509-516. 

Bitzer J, Platano G, Tschudin S, Alder J. Sexual counseling in elderly couples. J Sex Med. 2008;5:2027-2043.

Olivi M, Santana RG, Mathias TA. Behavior, knowledge and perception of risks about sexually transmitted diseases in a group of people over 50 years old. Rev Lat Am Enfermagem. 2008;16:679-685. 

Elias J, Ryan A. A review and commentary on the factors that influence expressions of sexuality by older people in care homes. J Clin Nurs. 2011;20:1668-1676.

Wallace MA. Assessment of sexual health in older adults. Am J Nurs. 2008;108:52-60.
Annon J. The PLISSIT model: a proposed conceptual scheme for the behavioral treatment of sexual problems. J Sex Educ Ther. 1976;2:1-15.

Hellwig, JP. Birth trends. Nurs Womens Health. 2012;16:192-197.

All electronic documents accessed March 15, 2013.