September 19, 2013
Pain Management: A Challenge for Both Prescriber and Patient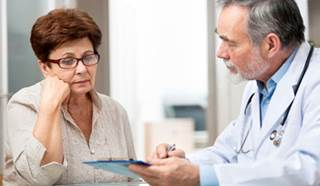 According to the American Pain Society (APS), pain is the leading public health problem in this country and the most common reason people seek medical care.1
A landmark report issued by the Institute of Medicine (IOM) in 2011 found acute and chronic pain affects at least 100 million U.S. adults.2 But according to the IOM report, pain remains "underreported, underdiagnosed, and undertreated."
RELATED: Pain Management Resource Center
One reason for undertreatment is the reluctance physicians have in prescribing opioids, due to concerns about medication diversion or addiction.3 The reluctance to prescribe opioids creates a state of tension between physicians and patients.3
This is especially true in primary care practices, where limited time and the need to provide comprehensive care prevent in-depth investigation of pain and potential for abuse and diversion.
Consequently, patients with chronic pain have reported that their experience of pain management "involves strenuous work to establish their credibility" and that they feel stigmatized, distrusted, and isolated.3 Primary care providers (PCPs) feel "stressed" by the challenges involved in treating chronic pain.3 These differing needs and perspectives often pit PCPs and patients against each other.
A new study3 seeks to "develop a better understanding of the respective experiences, perceptions, and challenges that both patients with chronic pain and PCPs face communicating with each other about pain management in the primary care setting."
The authors seek to "clarify how concerns and uncertainties about opioid therapy affect the ways both patients with chronic pain and PCPs experience primary care interactions."
The authors utilized "purposive and snowball sampling techniques" to identify 14 PCPs. Chronic pain patients (aged 49 to 79 years old) who received more than six opioid prescriptions (n=26) during the prior year were selected at random from the panels of participating physicians. Face-to-face in-depth interviews were conducted individual with patients and PCPs.3
The researchers found three notable tensions between patients and PCPs.
The Role of Discussing Pain Versus Other Primary Concerns
Patients and providers did not accord equal "primacy" to pain. Patients felt their pain should be prioritized during the visit but PCPs were not interested in talking about it.
One patient reported that the PCP only wanted to talk about cholesterol, blood pressure, mammography, and colonoscopy, but ignored the pain that "affects me every single day, every single waking moment, and half the time at nights."
Another felt the PCP could have had "more of a sympathetic ear." And another patient said he had to become assertive and "force" the PCP to become responsive to his pain.
PCPs reported perceiving discussion about pain as detracting from having adequate time to address important primary care concerns (eg, cholesterol and hypertension). In the words of one PCP, "I could not take care of this patient's medical needs, as I was always talking to him about his pain."
Acknowledgment of the Reality of Pain and the Search for Objective Evidence
Determining whether a patient actually has pain is delicate and challenging for PCPs.
One stated that she would like more training on how to make this determination. "Pain is so subjective. You can have a patient that doesn't have a lot show up on X-ray... or... MRI, but they're interpreting their pain as... 0 out of 10." Another said, "I find it hard to say how someone's pain can be judged by someone else."