May 26, 2015
Docs Using Social Networks for Medical Crowdsourcing of Rare, Difficult Cases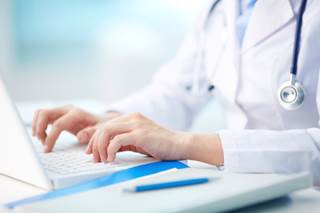 Stumped by a patient's symptoms? Looking for a second opinion on a diagnosis? Several online social networks are catering to the unique needs of physicians via electronic communication to discuss patient cases, rare diseases, and more. Doctors can tap into the collective knowledge of physicians online ("crowdsourcing"), as well as share their own expertise in these highlighted digital platforms.
Founded in 2005 in the United States, SERMO is a social network of nearly 350,000 verified licensed physicians that was also launched in the United Kingdom in 2015. For physicians who are looking to crowdsource medical information, SERMO allows users to post patient cases, including images, and create polls with potential diagnoses. In order to ensure that members of SERMO are licensed physicians, members undergo a triple-verification process that includes confirmation of their social security number via IDology Identify Verification, the leading identity and fraud prevention real time verification system used by financial services, healthcare, and insurance industries. A member's medical credentials are also verified according to the AMA Physician Masterfile and steps are taken to prevent duplicate or fraudulent accounts via the Relevant ID verification system. However, anonymity is permitted on SERMO to encourage open dialogue without fear of repercussions.
Particularly for rare conditions, insights from specialists that a doctor may otherwise not have access to can be extremely valuable and even save a patient's life. A SERMO member, a primary care physician, was treating a 14-year-old boy with persistent cough but normal test results; the patient coughed up a "branch-like" mass, which was submitted to the PCP, and posted on SERMO with a list of possible conditions. A cardiologist correctly recognized the mass as a symptom of the rare respiratory condition Fontan-Associated Plastic Bronchitis linked to previous heart surgeries. A pediatrician with pulmonary and respiratory expertise agreed, as did a physician who recently had a patient die from this condition before it could be correctly diagnosed. The PCP immediately referred the patient to a cardiologist and the teenager was treated successfully.1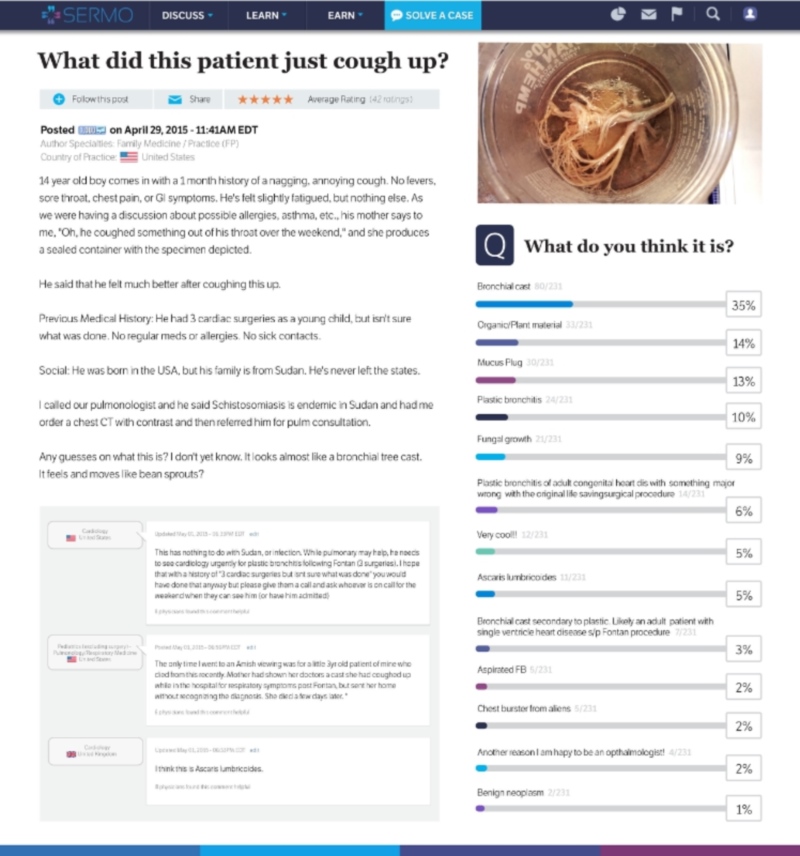 Image courtesy of SERMO.com.
While the physician-only social network Doximity also offers medical crowdsourcing via their HIPAA-secure iRounds forum, many doctors prefer to use the website's direct messaging service to connect with specialists and experts to discuss individual patient cases. The network's ExpertFinder service connects Doximity members with experts from 40 specialties via the DocMail messaging service for research inquiries, second opinions, and legal consultations. Because the ExpertFinder also integrates data from databases like PubMed and Clinicaltrials.gov, members can easily find authors of publications and reach out with medical inquiries. Not many doctors are likely to treat a patient who was bitten by a Macaque monkey infected with a virus that can cause lethal encephalitis in humans, as there are only approximately a dozen experts worldwide on this zoonotic disease. When a Doximity member did encounter such a patient, he was able to use the ExpertFinder service to quickly connect with one of these experts to successfully treat the patient.2
Figure 1 is often dubbed as "Instagram for physicians," but the free app for iPhone and Android is more than a collection of medical images.3 Users can share photographs of their patients to gather feedback and advice on diagnoses, as well as share cases that these doctors may otherwise never encounter in their practice. As with other electronic methods of sharing patient information, there are concerns about privacy and Figure 1 includes tools to remove any identifying information from the images (ie, faces and tattoos). The images are reviewed by Figure 1's medical officer and moderating team to approve prior to the pictures appearing on the site and members can "flag" images, comments, or descriptions that may identify or risk identifying a patient. Although the app is currently restricted only to licensed physicians, the company has announced plans to expand the service to other healthcare professionals.
Before joining these or other medically-targeted social networks, it is important that healthcare professionals review their institution's policies on obtaining patient consent prior to sharing cases online. Patient consent may also be regulated by federal, state, and organizational restrictions so physicians should review these applicable policies prior to sharing any patient information. However, by following the proper protocols, these crowdsourcing tools can be invaluable for doctors to tap into networks of colleagues both close and far from home.
References
30 Minutes to save a life: Doc uses social network to diagnose fatal condition (US). http://www.sermo.com/who-we-are/press-releases-view/55. Published May 20, 2015. Accessed May 26, 2015.
Doximity launches ExpertFinder to match clinical need with clinical experts. http://www.prnewswire.com/news-releases/doximity-launches-expertfinder-to-match-clinical-need-with-clinical-experts-135994878.html. Published December 21, 2011. Accessed May 26, 2015.
Figure 1. https://figure1.com. Accessed May 26, 2015