April 25, 2013
Case Study: Extreme Weight Loss in Elderly Woman Over 2-Year Period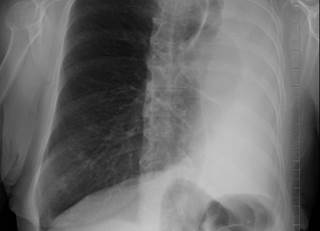 Ms. B, aged 65 years, had had no medical care in 45 years. She had a long history of abuse and was embarrassed to see a provider because of her bruises. Her husband had died a year earlier. She reported that she had been feeling ill recently.
Ms. B came to the medical center wanting to establish care with a female clinician. She had seen my picture in the paper and decided to make an appointment.

1. History

Ms. B's medical history showed tobacco abuse for 50 years. In addition, she reported having been physically abused by her husband and sexually abused by her father. She had unintentionally lost 165 pounds in the past two years. Her income was very limited. With no family or friends and no means of transportation, Ms. B had to beg for a ride to go anywhere. She had never had blood work done, and had never had a mammogram or a colonoscopy.
Ms. B reported feeling "not right" on the day she came in for a consult. She also reported the presence of a mass on her right breast for the past seven years, which seemed to be shrinking. At the time of this visit, no shortness of breath, chest pain, headaches, fever, chills, appetite change, nausea, vomiting, dysphagia or change in bowel or bladder habits was reported.

2. Examination

Clinicians immediately looked at Ms. B's vital signs. BP was 162/110 mm Hg, indicating stage 2 hypertension. Pulse was 114 beats per minute, respiration rate 20 breaths per minute, temperature 97.4°F, and oxygen saturation 97% on room air.
On examination, Ms. B was malodorous, disheveled and quite anxious. She was alert and oriented to person, place and time. Her respirations were easy and nonlabored. Ms. B had severe gingivitis with numerous dental caries. Her eye contact was poor. There were no breath sounds on the left side of the chest cavity. Right lung field breath sounds were present.
MORE: READ ADDITIONAL CASE STUDIES FROM MPR
Ms. B's left breast was without any lumps, bumps or masses. Her right breast had a 10- × 8-cm hard, nontender mass, causing nipple retraction and dimpling. Several satellite nodules were noted as well. No supraclavicular or axillary adenopathy was appreciated. The patient's abdomen was soft and nontender without organmegaly.

3. Diagnostic Tests

Ms. B's WBC was 13,300/mL, hemoglobin 8.8%, hematocrit 28.1%, platelets 782, mean corpuscular volume 
77.9 fL, albumin 2.8 g/dL, calcium 10.6 mg/dL, and vitamin D 
<4.0 pg/mL. Cancer antigen was 15-3, 19.3, carcinoembryonic antigen, 6.3. Urinalysis showed blood, protein, leukocyte esterase, bacteria, and WBC.

Chest CT showed an aortopulmonary window mass measuring 5.0 × 5.8 × 5.2 cm and obstructing the left mainstem bronchus, with severe compression of the left pulmonary artery; a left pleural effusion; and a T12 and left kidney lesion.

Mammogram showed asymmetrical breast tissue, a large right breast mass with skin thickening and nipple retraction. In the left breast a 6.0 × 3.0 × 6.0 mm nodule was present, with a concern for malignancy.