February 01, 2011
Acute onset of pain, numbness in the face, and slurred speech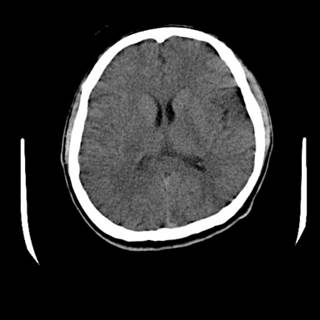 Mr. C, a generally healthy Hispanic man aged 29 years, was brought to the clinic for generalized weakness. He was also having trouble moving, talking, and grasping. Mr. C was asymptomatic when he went to bed the night before, but his wife woke up and thought he was breathing in an odd manner. When Mrs. C awakened her husband, his speech was slurred, and he was making an unusual hand movement.
Mr. C had no history of head injury, seizure, fever, or incontinence. He had not travelled recently and noted no contact with sick individuals. Medical history was unremarkable for chronic medical problems, surgery, or periodic weakness.
1. EXAMINATION FINDINGS
Respiratory distress caused the patient to be unable to lie flat. Vital signs were stable with O2 saturation levels at 92% on two liters of oxygen.
Head exam revealed no signs of trauma. The right pupil was miotic and had a sluggish reaction to light compared with the left. The patient had a right facial droop, was unable to protrude his tongue, and had slurred speech. Oral mucosa was moist, with absence of thyromegaly or jugular venous distention. Lungs were clear with shallow breath sounds. Heart exam was normal with no evidence of rub or murmur. Abdomen was benign. Mr. C was alert and oriented to time, place, and person. He exhibited bilateral 2/5 handgrip per Medical Research Council scale and had normal sensations but was unable to lift both legs off the bed.
2. LABORATORY RESULTS
ECG showed a normal sinus rhythm with no ischemic changes. Hemoglobin was 14.6 g/dL and WBC 10,400/μl, with 49% neutrophils and 45% lymphocytes.
International normalize ratio was 0.98. Chemistry revealed sodium 141 mEq/L, potassium 2.4 mEq/L, chloride 101 mEq/L, bicarbonate 27 mEq/L, glucose 149 mEq/L, creatinine 0.9 mg/dL, blood urea nitrogen 20 mg/dL, and calcium 9 mg/dL.
CT of the head showed no bleed or acute change (Figure 1).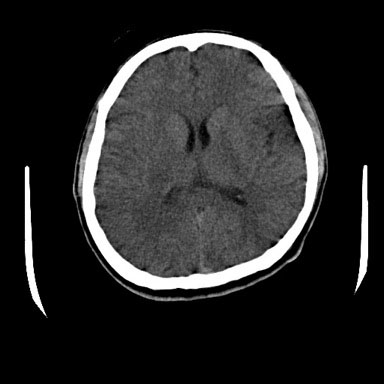 3. DIAGNOSIS AND TREATMENT
It was thought that Mr. C's muscle weakness could be explained by hypokalemic periodic paralysis, and a potassium replacement was advised. Potassium was replaced, and slight improvement of weakness and generalized medical condition was noted by the next day.
But on the third day, Mr. C had a sudden setback with worsening weakness and slurred speech. He also developed bilateral nystagmus and had focal seizures of the left upper extremity. He was transferred to our hospital.
Mr. C had another seizure involving the bilateral upper extremities and was postictal on presentation. He was drowsy and complaining of headache and reduced hearing in his right ear and was unable to cooperate with us for a complete physical examination.
The clinical exam revealed bilateral nystagmus. Meningeal signs were absent. Mr. C had generalized weakness, right facial weakness, and normal tone and deep-tendon reflexes.
The neurologist started Mr. C on levetiracetam (Keppra) and ordered an EEG/MRI of the brain.
MRI revealed a right cerebellar stroke with right temporo-parietal cortical involvement (Figure 2). Vertebral dissection/embolization was considered as a possible etiology.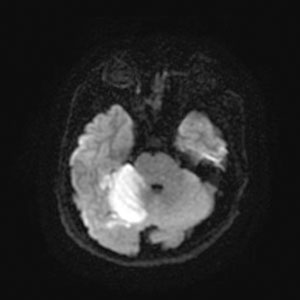 Mr. C was started on a heparin drip and was transferred to the ICU pending workup (hypercoagulable state, CT angiography of the head, and transesophageal echocardiogram).
CT angiogram of the head/neck obtained the next day revealed severe vertebral artery stenosis at level C6 with 1.0- to 1.5-cm area of focal dissection (Figure 3).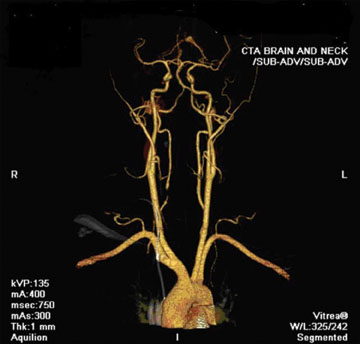 Mr. C proceeded to develop an intracranial bleed, mass effect, and hydrocephalus with resultant craniotomy, and subsequent placement of a ventriculoperitoneal shunt, intubation, aspiration pneumonia, and a prolonged ICU course. The patient showed slow improvement and was transferred to an acute rehabilitation facility after four weeks. Mr. C's final neurologic deficits included diplopia that improved with the use of an eye patch, reduced right-side hearing, and a tendency to seizure that was controlled with valproic acid. He underwent a tracheostomy for airway protection and percutaneous endoscopic gastrostomy for dysphagia.
4. DISCUSSION
Cervical artery dissections are defined by the presence of a mural hematoma in the arterial wall. Most occur in the internal carotid artery more than 2 cm after the bifurcation, although they can also occur in the vertebral artery.1
Cervical artery dissections account for 20% of ischemic strokes occurring before age 45 years; patients have a mean age of 40 years and a male:female ratio of 1.5. The internal carotid artery is the most commonly affected vessel. Cervical artery dissection causes cerebral ischemia attributable to homodynamic factors or embolism. The incidence in the general population is low, estimated to be 2.6/100,000 inhabitants/year (95% CI 1.9-3.3), as reported in a recent population-based study.2 A high index of suspicion and early diagnosis and treatment is essential in the identification and management of cervical artery dissection.
Trauma and primary diseases of the arterial wall are the main predisposing factors of these dissections. Cervical artery dissections are associated with hematoma in the wall of a cervical artery (carotid or vertebral), secondary either to an intimal tear or to direct bleeding within the arterial wall caused by ruptured vasa vasorum. The intramural hematoma can expand toward the intima or the adventitia, resulting in a stenosis or in an aneurysmal dilation of the artery.3,4 A spontaneous dissection is assumed when no or only minor trauma preceded the onset. However, the differentiation between spontaneous and traumatic dissections is artificial because of a continuum between both forms.1,4
Rare risk factors include infection, migraine, hyperhomocysteinemia, and the 677TT genotype of the 5,10-methylenetetrahydrofolate reductase gene, although evidence is sparse. An underlying arteriopathy, caused by such hereditary connective-tissue disorders as Marfan's syndrome, Ehlers-Danlos syndrome type 4, pseudoxanthoma elasticum, and others, is believed to have a role in the development of cervical artery dissections.1,4
5. CLINICAL FEATURES
The clinical presentation of cerebral ischemia caused by a cervical artery dissection does not differ from that of cerebral ischemia attributable to other factors.
The clinical presentation of spontaneous dissections of the internal carotid artery includes cerebral ischemia, cervical or cranial pain, Horner's syndrome, cranial nerve palsy, and tinnitus. Cervical artery dissections may also be silent. Occipital pain and lateral medullary syndrome resulting in speech and swallow difficulties caused by brainstem ischemic deficits are the most common findings in vertebral artery dissections.
In rare instances, carotid artery dissection can lead to retinal ischemia, and rare cases of cervical spinal cord infarcts resulting from vertebral-artery dissections have been reported.5
6. MANAGEMENT
The favorable natural history of cervical artery dissections emphasize the need for a noninvasive approach to detection, monitoring, and follow-up. Apart from the mural hematoma (best seen on axial cervical MRI), typical features of cervical artery dissections can be visualized with ultrasound, magnetic resonance angiography, and CT angiography—although conventional angiography remains the gold standard for the diagnosis of arterial dissections.1,4 Anticoagulants or antiplatelets are usually recommended in the acute phase to prevent primary or recurrent ischemic events.
Follow-up studies suggest a fairly good overall prognosis in adults and in children. In many centers, Cervical artery dissections are treated with heparin at the acute stage, although the benefit of such a potentially dangerous treatment has never been proven by a randomized trial.4,6
7. CONCLUSION
Optimal management of cervical artery dissections strongly relies on diagnostic accuracy. Although the functional outcome of the condition is good in most patients, socioprofessional effects can be important. The incidence of the disorder in the general population is underestimated. Mortality and short-term recurrence rates are low, but possibly also underestimated. Further research is warranted to improve our understanding of the underlying pathophysiology, to assess the long-term outcome, and ultimately to provide treatment and prevention strategies.1
Dr. Sharma is a hospital medicine physician with Mayo Health System: Franciscan Skemp Healthcare in La Crosse, Wisc.
References
1. Debette S, Leys D. Cervical-artery dissections: predisposing factors, diagnosis, and outcome. Lancet Neurology. 2009;8:668-678.
2 Lee VH, Brown, Jr., RD, Mandrekar, JN, Mokri B. Incidence and outcome of cervical artery dissection: a population-based study. Neurology. 2006;67:1809-1812.
3. Schievink WI. Spontaneous dissection of the carotid and vertebral arteries. N Engl J Med. 2001;344:898-906.
4. Kim YK, Schulman S. Cervical artery dissection: Pathology, epidemiology and management. Thrombosis Research. 2009;123:810-821.
5. Hundsberger T, Thomke F, Hopf HC, Fitzek C. Symmetrical infarction of the cervical spinal cord due to spontaneous bilateral vertebral artery dissection. Stroke. 1998;29:1742.
6. Leys D, Lucas G, Gobert M, et al. Cervical artery dissection. Eur Neurology. 1997;37:3-12.
All electronic documents accessed January 15, 2011.