March 19, 2017
Cangrelor vs. Clopidogrel for Reducing Ischemic Complications During PCI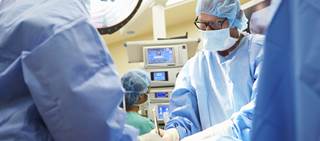 WASHINGTON, DC—At the ACC.17 Scientific Session, researchers from Brigham and Women's Hospital Heart & Vascular Center, Boston, MA, reported that cangrelor, a rapidly-acting, potent, reversible platelet P2Y12ADP antagonist, reduced early ischemic periprocedural complications without an increase in severe bleeding compared to clopidogrel in patients undergoing percutaneous coronary intervention (PCI) on a background of heparin.
During PCI, cangrelor is indicated for use with different intravenous (IV) anticoagulants. Lead author, Muthiah Vaduganathan, and coauthors studied the safety and efficacy of cangrelor in a subgroup of patients receiving unfractionated heparin for PCI in the modified intent-to-treat (mITT) population of the CHAMPION PHOENIX trial (n=10,939).
"The primary efficacy endpoint was the composite of death, myocardial infarction, ischemia-driven revascularization, or stent thrombosis at 48h," explained Vaduganathan. Stent thrombosis (ST) was the key secondary efficacy endpoint.
Of the total studied patients, heparin was used in 69.2% (n=7,566) of patients. PCI was performed for stable angina (55.6%), non-ST elevation acute coronary syndrome (NSTE-ACS; 26.6%), or ST-elevation myocardial infarction (STEMI; 17.8%).
Among patients in the unfractionated heparin group, cangrelor decreased the primary composite efficacy endpoint at 48h vs. clopidogrel (4.8% vs. 5.9%, odds ratio [OR] 0.80, 95% CI: 0.65–0.98; P=0.03). Cangrelor also consistently reduced ST at 48h (0.9% vs. 1.4%, OR 0.70, 95% CI: (0.45–1.07; P=0.10).
No difference was seen in GUSTO severe/life-threatening bleeding vs. placebo (0.1% vs. 0.1%, OR 1.24, 95% CI: 0.33–4.61; P=0.75) or in requiring blood transfusion at 48h (0.4% vs. 0.2%, OR 1.87, 95% CI: 0.83–4.21; P=0.12). Vaduganathan added, "Results were consistent in stable angina, NSTE-ACS, and STEMI."